Thirsk Morning

Thirsk Morning
Thirsk Morning is a single sheet newspaper for visitors to Thirsk and for local residents
– FREE

to your inbox
It gives you vital information in planning a day out. Included are the weather forecast from the BBC and a snapshot of Thirsk Market Place. Both are less than an hour old whenever the newspaper is printed.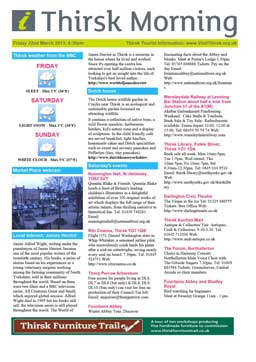 Following the weather and picture are two articles about fascinating places to visit. These articles change so that you will see new interesting stories every day.
Lastly there is a list of events happening today and, if there is space, some events for tomorrow.
Contact us • Advertise in Thirsk Morning
Click HERE to see the latest edition of Thirsk Morning, produced less than an hour ago.
Please print the sheet rather than viewing it online.
If you will be travelling to North Yorkshire please print the newspaper in the days before you come. To receive Thirsk Morning free of charge by email before 7am please sign up HERE. You can later easily unsubscribe by clicking a link in any of the emails.